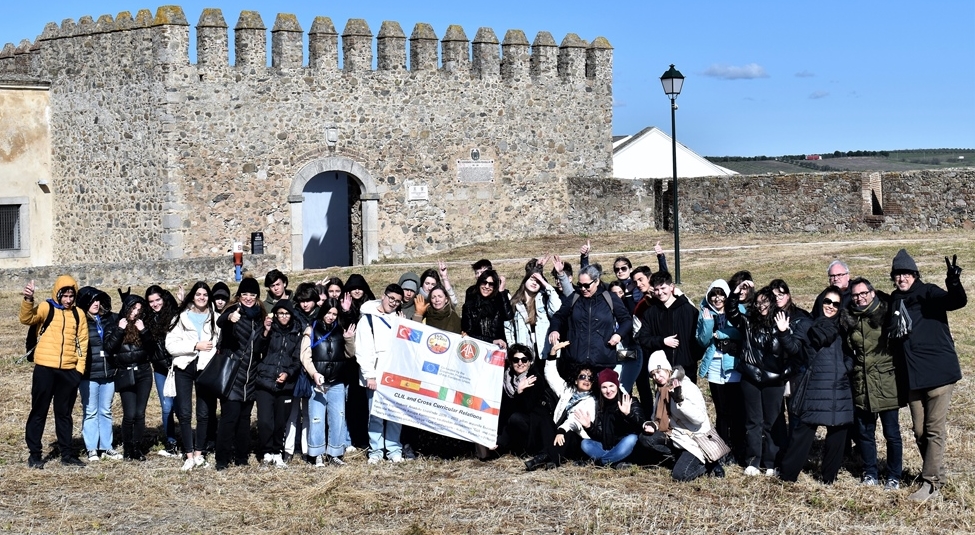 Mobility in Portugal
From the 6th to the 10th February, Agrupamento de Escolas de Campo Maior could finally host the mobility in Portugal. The theme of the project CLIL in Portugal was History; therefore, the activities were connected to the Portuguese history of the village of Alentejo, its traditions and culture.
The first day of the mobility the participants met at school and introduced their country. After that, in mixed up groups, the students had to learn about one legend of one of the participating countries and work collaboratively in order to write a story board about said legend. They used two digital tools to conclude their task: storyboardthat.com and pixtoon. In the afternoon, the participants visited two emblematic and important places of Campo Maior: Centro de Ciência do Café, where they could taste local coffee and Adega Mayor, which is famous for the production of wine from the local vineyards.
During the second day the participants used the educative tool TeachOut. The goal was to get to two museums in the village: "Centro Interpretativo Casa das Flores" and "Museu Lagar". The first museum is a place where the visitors learn about the tradition and patrimony recognized by UNESCO that refers to the unique art of making flowers from paper which is the main element of a festival that consists of decorating the narrow streets of Campo Maior with handmade paper flowers. The participants were able to learn how to do those flowers themselves. The activity led to "Museu Lagar", a place dedicated to the ancient way of producing olive oil. In the end of the second day the participants met the Mayor and some town counsellors in the town hall, receiving some souvenirs that will remind them of this mobility.
The participants were also able to see a nearby city: Elvas. They met their historical patrimony and, with a guided visit, they discovered the centre of the city; saw the castle; visited the plum factory (a delicatessen from Elvas) and tried some plums; visited some religious monuments and visited Forte da Graça, an important fortification which is the symbol of this city whose patrimony is also recognized by UNESCO.
The last day of the mobility was dedicated to the visit of the castles of Campo Maior and Ouguela and the cistern of Ouguela. It was also dedicated to the host families that kindly allowed us to do all the activities. Together they joined a party where the school community and the families could visit the exhibition of the work done by the groups. It was a big event that closed this wonderful, amazing week and where important areas such as democracy, equality, tolerance, cooperation, being European were experienced and lived altogether.